John Bunyan- God's Tinker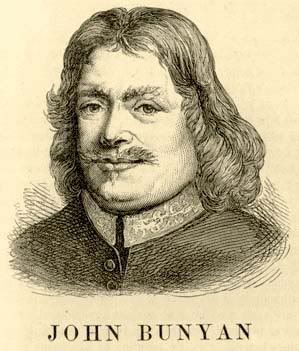 I once heard someone (sadly, I can't remember who) say that every Christian should pick a "Christian giant" from the past and learn about that person, read everything that person had written, and essentially become a student of that faithful Christian.

I think that person for me is going to be John Bunyan.

John Bunyan was born in 1628, near Bedford, England. He's best known for writing

Pilgrim's Progress

, an allegory about the Christian life that he authored while in prison for preaching about Jesus. It has been suggested that

Pilgrim's Progress

is the world's greatest selling book aside from the Bible and it has been translated into over 200 languages!

But Mr. Bunyan was no one hit wonder; he was in fact a prolific author who wrote 58 books, ranging from allegory to exposition to poetry to polemic.

I first read

Pilgrim's Progress

as a kid, probably around 11 or 12. Bunyan's vivid images made a deep imprint that have stayed with me to this day. But it wasn't until I read Bunyan's autobiography,

Grace Abounding to the Chief of Sinner

s, that I truly began to appreciate what a testimony of God's grace he was.

Since then, I have been saving my pennies and last week I bought Banner of Truth's 3 volume set of the Complete Works of John Bunyan. It arrived Tuesday and from my cursory perusal, it seems that picking Bunyan is a good idea. John Bunyan is a man I want to be like. His passion for Jesus and his enduring trust in God, even in the midst of tremendous trial and fearful circumstances, are both a radical challenge and a helpful example to me.

I encourage everyone to find a copy of anything that Bunyan has written and follow his gaze as he points to Jesus.

See the works of Bunyan at Project Gutenberg.

Get the works of Bunyan in txt, rtf or pdf.

Read, download, or listen to John Piper's biographical sketch of John Bunyan.

A great Bunyan resource.

Get a free audiobook of

Pilgrim's Progress

.

See WTS Books page of Bunyan's books.


john bunyan
Labels: church history, John Bunyan, pages and pages, worship